Neetho Cheppana Lyrics – Athadu | Mahesh Babu, Trisha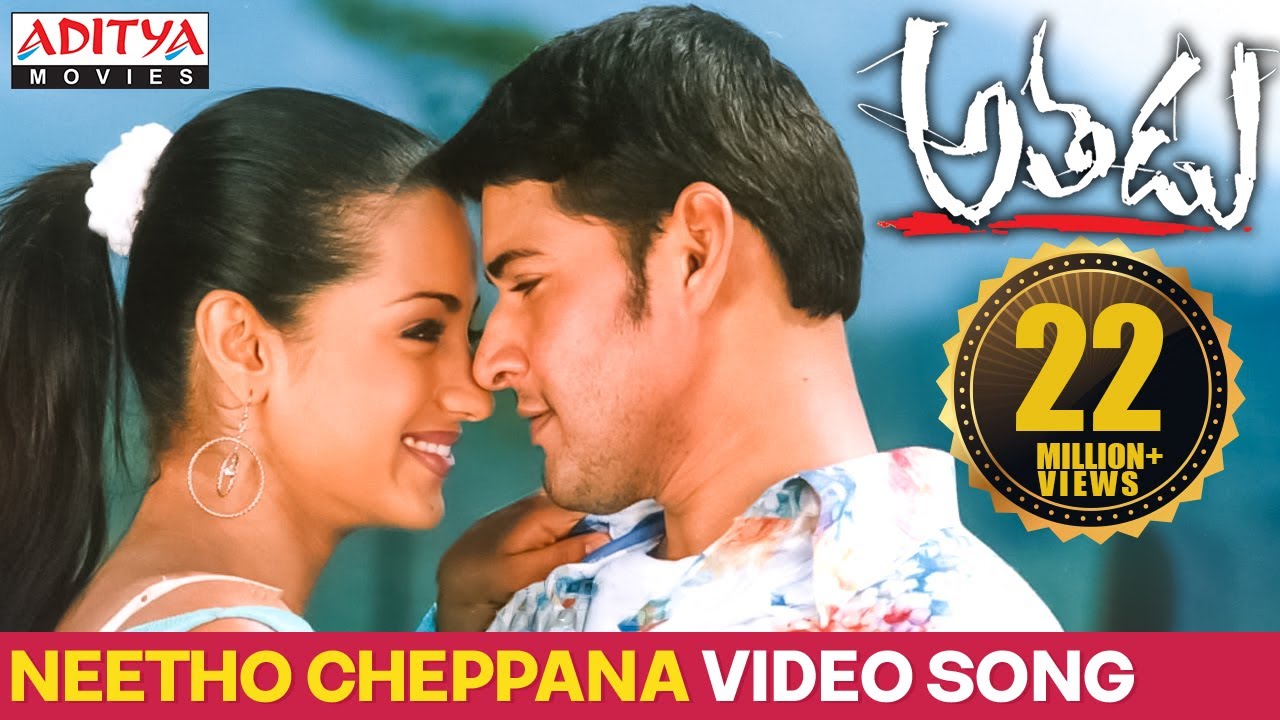 Musiclabel

: Aditya Movies

Description:
Neetho Cheppana Song lyrics in Telugu and English

, written by Sirivennela Seetharama Sastry, this song from the Tollywood Action/romantic

film "Athadu"

. The Song has

sung by S. P. Balasubrahmanyam, Chitra

and music was composed by Mani Sharma. Starring Mahesh Babu, Trisha Krishnan, Sonu Sood, Brahmanandam, Prakash Raj, and others.
Neetho Cheppana Lyrics in English
NEETHO… CHEPPANA
NEEKKUDAA… TELISINA
NUVVENTHAGA RECHIPOTHE,
ANTHA SARADAA THELUSUNA…
GAARAM… CHESINA
NAYAGAARAM… CHOOPINA
KANIKAARAME KALUGUTHONDHE,
KASHTAPADAKE KAANCHANA…
NENEE …… NENUGAA…
LENEE… LENUGAA… A… A A AAA
NAA… KANNULAA… NIDHEE… VENNELA O O O…
NEETHO… CHEPPANA, NEEKKUDAA… TELISINA
NUVVENTHAGA RECHIPOTHE
ANTHA SARADAA… THELUSUNA…
INKONCHAM ANUKUNNA… IKA CHALLE ANNANAA…
VADHALAMANTE… YEMITARDHAM
VADHILI POMMANA…
PANIMALA PAIPAINAA… PADATHAAVEM PASIKUNA…
MUDHU MEERUTHUNNA PANTHAM
HADHULONE AAPANAA…
MAGUVA MANASU THELISENA… MAGAJATIKI… …
MOGALI MONALU THAGILENAA…
LETHA SOYAGAANIKI… KOOTHA DHENIKI
GAARAM… CHESINA
NAYAGAARAM… CHOOPINA
KANIKARAME KALUGUTHONDHE
KASHTAPADAKE KAANCHANAA…
ODHIGUNNA ORALONA…
KADHILINCHAKE KURRADHANAA…
KATTHI SAMUTHO PRAMADHAM, PATTU JARINA…
PEDHAVOPANI PADUNAINAA… PARAVALEDHANUKONA…
KOTTA PREMALO VINODHAM
NEEKU NENU NERPANAA… …
SONTHA SOGASU BARUVENA… SUKUMARIKI…
ANTHA BIRUSU PARUVENA
RAKUMARUDANTI NEE… RAJASANIKI
GAARAM CHESINAA… NAYAGAARAM CHOOPINAA…
KANIKARAME KALUGUTHONDHE
KASHTAPADAKE KAANCHANA…
NENE… … NENUGA…
LENEE… LENUGAA… AH… AH AH AHAHAH
NAA… KANNULA… NEEDE… VENNELA O O O…
—————————————-

TopSongLyrics Trivia



Who is the lyricist of the song "Neetho Cheppana" from the film Athadu?

Sirivennela Seetharama Sastry has written the lyrics of "Neetho Cheppana" song.



Who is the Music Director of the film "Athadu"?

Mani Sharma has the music director of "Athadu".



Who are the singers of "Neetho Cheppana" song?

S. P. Balasubrahmanyam, Chitrahas sung the "Neetho Cheppana" song.



Who is the director of "Athadu"?

Trivikram Srinivas has directed the film "Athadu".



Who is the Star cast of "Athadu"?

Mahesh Babu and Trisha are the lead cast of Athadu.



When was the "Athadu" movie released?

Athadu Movie released on 10th Aug 2005.

—————————–
Neetho Cheppana Telugu Lyrics
నీతో… చెప్పనా
నీక్కూడా… తెలిసిన
నువ్వెంతగా రెచ్చిపోతే, అంత సరదా తెలుసునా…
గారం… చేసిన
నయగారం… చూపిన
కనికారమే కలుగుతోందే, కష్టపడకే కాంచనా…
నేనే… … నేనుగా…
లేనే… లేనుగా… ఆ… ఆ ఆ ఆఆఆ
నా… కన్నుల… నీదే… వెన్నెల ఓ ఓ ఓ …
నీతో… చెప్పనా, నీక్కూడా… తెలిసినా
నువ్వెంతగా రెచ్చిపోతే
అంత సరదా… తెలుసునా…
ఇంకొంచం అనుకున్నా… ఇక చాల్లె అన్నానా…
వదలమంటే… ఏమిటర్ధం, వదిలి పొమ్మనా…
పనిమాల పైపైన… పడతావేం పసికూన…
ముద్దు మీరుతున్న పంతం, హద్దులోనే ఆపనా…
మగువ మనసు తెలిసేనా… మగజాతికి… …
మోగలి మోనలు తగిలేనా…
లేత సోయగానికీ… కూత దేనికి
గారం… చేసిన
నయగారం… చూపిన
కనికారమే కలుగుతోందే, కష్టపడకే కాంచనా…
ఒదిగున్న ఒరలోన… కదిలించకే కురదానా…
కత్తి సాముతో ప్రమాదం, పట్టుజారినా…
పెదవోపని పదునైన… పరవాలేదనుకోన…
కొత్త ప్రేమలో వినోదం
నీకు నేను నేర్పనా… …
సొంత సొగసు బరువేనా… సుకుమారికి… …
అంత బిరుసు పరువేనా
రాకుమారుడంటి నీ… రాజాసానికి
గారం చేసిన… నయాగారం చూపినా…
కనికారమే కలుగుతోందే
కష్టపడకే కాంచనా…
నేనే… … నేనుగా…
లేనే… లేనుగా… ఆ… ఆ ఆ ఆఆఆ
నా… కన్నుల… నీదే… వెన్నెల ఓ ఓ ఓ …